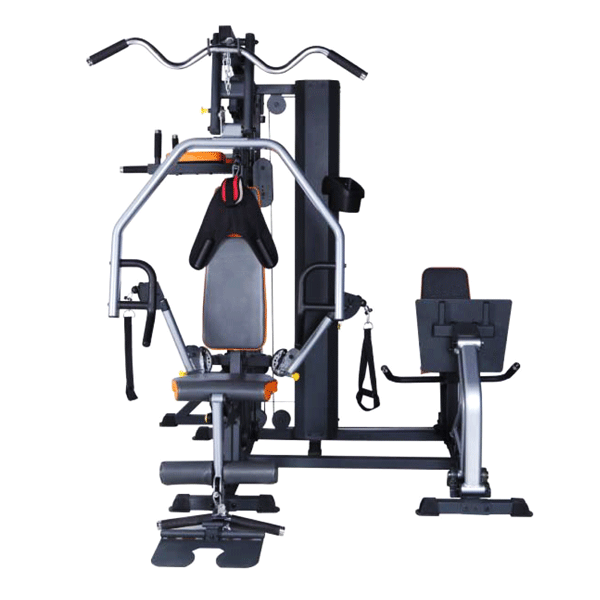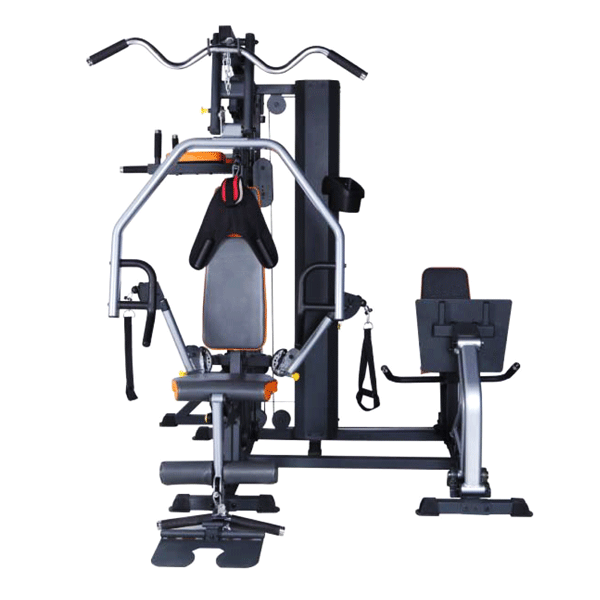 Professional 4 Station Multi Gym



LIFE TIME SERVICE SUPPORT


FREE FITNESS TRAINING & DIET CONSULTATION
DESCRIPTION
PREMIUM STEEL CONSTRUCTION – This all-in-one home multigym machine is made of heavy duty pipe that is designed to last a long time. This multi gym equipment is made with 2.5" heavy-duty steel tubing and reinforced with guard rods that hold weight in place during workouts. The frame of the multi-gym machine is powder coated which makes the product long lasting and non-corrosive (rust free)
WEIGHT STACK LOCK – This multi gym machine comes with a 60 kgs, selectorized weight stack that can be customized according to your skill levels. There are 12 stacks of weight at 5 kg each and for safety it is supported by a weight stack lock. This gives enough freedom of choice to adjust the weight as per their comfort and capacity. Apart from catering to the experts in fitness, this machine is also suited for those who are just beginning their foray into fitness.
DUAL ACTION PRESS ARMS – Designed with dual action press arms, this versatile equipment allows you to perform chest press and vertical butterfly exercises to develop your biceps, triceps, pectorals, and other muscles with a simple remove / insertion of a pin.
REMOVEABLE CURL PAD – This multi gym for home features ergonomically designed seats with high-density boxed upholstery to reduce tension and impact. The preacher curl bicep pad is removable and adjustable to allow isolated bicep exercises.
CONVENIENT MULTI GYM – Enjoy the efficient training in the comfort of home with this equipment featuring an innovative structure that combines arm and leg stations; great for strengthening muscle groups and achieving a comprehensive total-body workout.

Non cable change design: makes it Easy to open pulley locks as you can add your own attachment as per your requirement like triceps rope, ankle straps etc. which you have to buy as per your convenience. ssembled Dimensions: 55" L x 47" W x 83" H || Maximum User Weight of 120 kgs

Multi Gym from FitnessOne Functions:- 20 Important Exercises: SM 1.18 Home Gym is a complete and compact machine with possibilities of doing 20 Important Exercises. Seated Bench Press, Pectoral fly, Front/Back Lat Pull Down, Tricep Extension, Leg Extension, Lat Rowing, Seated Row, Front / Side Deltoid Raises, Adduction /Abduction, Biceps Curl, Wrist Curl, Preacher Curl.
Durable & sturdy steel frame: The CRC frame with durable finish, it has a stable frame which gives you stability while performing your workout. The sturdy steel frame makes this multi gym equipment station a comfortable and durable one. Its premium quality construction ensures that you get the most out of it. The Sturdy Frame offers great stability and rigidity. You can work out any muscle group without worrying.
PADDED CUSHIONED SEATS: This weight bench comes with padded cushioned seats. These seats provide you a comfort while performing your training sessions. It holds your back in a comfortable way during workout sessions. The Cushioned Seat with sweat proof padded foam for the user to exercise serenely. The padded foam rollers help in securing your ankles and legs which provides a cushioning effect while working out.

The Padded Cushions are Tear resistant, Well-padded, high density, padded back and arm cushions provide comfort as you work out your abdomen, waist, chest, and upper limbs. The Rubber Foot Caps on the base protect the metal framework from damaging the surface and give dependability to the product, thus, keeping it in position.
Multi Gym